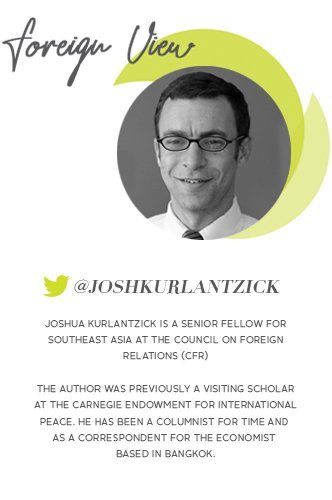 [dropcap]I[/dropcap]t has become accepted, among most experts on democracy, and among policymakers, that democracy worldwide is in increasing peril. This year's Freedom in the World annual report on the state of democracy, produced by Freedom House (for whom I have consulted on reports on Southeast Asian states) noted that democracy had declined globally for thirteen years in a row. It further found that authoritarian states were "shed[ding] the thin façade of democratic practice that they established in previous decades," while "countries that democratized after the end of the Cold War have regressed in the face of rampant corruption, antiliberal populist movements, and breakdowns in the rule of law" and that even consolidated democracies, in Europe and North America, faced severe pressure, backsliding, and corrosion of democratic institutions and norms.
Its findings have been echoed by a range of other research, and although autocratic-leaning populists had mixed results in elections in 2018 – and might struggle to maintain power this year in important states like India — they are not going away anytime soon. Philippine President Rodrigo Duterte is likely to consolidate his power in upcoming midterm elections. Mexican President Andres Manuel Lopez Obrador is undermining Mexican democratic institutions, going around institutions via referenda and other means, packing the courts, and taking other measures. Populist parties performed relatively well in Thailand's recent elections, although the military appears likely to prevent a populist coalition from controlling parliament. A far right, populist party seems to be gaining ground in Spain, one of the last western European states not to have a large far right movement.
Meanwhile, the most powerful authoritarian states, such as China, are becoming more repressive, and more globally influential, while leading democracies, including Indonesia, are far less interested in democracy promotion outside their borders. The Jokowi administration, for instance, has not played as large a role in regional and global democracy promotion as its predecessor, the Yudhoyono administration. With a few exceptions in recent years, like Malaysia and possibly Ethiopia, countries that recently have seemed ready to shed autocratic governments have backslid, with repressive regimes crushing political change in places like Cambodia and Egypt or newly elected leaders failing to support the growth of democratic institutions, as in Myanmar, where a potentially promising democratic transition, in 2015 and early 2016, appears to have foundered.
Even in Indonesia, still one of the more successful examples of democratization in recent years, cracks have appeared in the process of political transition, including the growth of massive patronage politics, or "democracy for sale," and a retreat, in Jakarta, from commitments to Indonesia's secular foundations. Indonesia still remains a much more solid democracy than any other country in Southeast Asia, but it faces significant political hurdles.
Amidst this gloom, a fascinating new article, based on groundbreaking new research, suggests that the global retreat of democracy is actually worse than it appears, even to some of its most pessimistic observers. In an article for Democratization, Anna Luhrmann and Staffan Lindberg of the University of Gothenburg, who base their conclusions on the V-Dem, or Varieties of Democracy, Project's findings, argue that a "third wave of autocratization" (following the world's two previous autocratic waves last century), or a move away from democracy, is actually affecting more democracies than was commonly thought, although usually through gradual reversals, with legal facades, rather than an abrupt democratic reversal like a coup. (I was a contributor to the V-Dem project briefly.) V-Dem is a project that uses a comprehensive, multidimensional dataset of various indicators to measure democracy in a broad range of countries, and has amassed more data on democracy than nearly any other organization.
The V-Dem project further has found that this global democratic backsliding began earlier than the mid- to late-2000s, which is when many democracy experts have traced the start of the current regression. The authors argue, in fact, that the current authoritarian resurgence actually began as early as 1994—a theory that suggests this wave of autocratization is far longer than previously imagined, and more difficult to stem, although many of the states regressing today do not revert into as brutal autocracies as in the past. Yet because so much of this backsliding was gradual, and not abrupt, it often has escaped initial notice. In addition, these types of gradual regressions, frequently cloaked in legal shifts and happening while flawed elections continue to take place—and lacking any Reichstag fire type catalytic event—have made it harder for domestic opponents of autocratization to mobilize against the growing repression.
For instance, in the Philippines recently, backsliding began after Duterte was elected, but he has not launched a coup, or overseen some other complete, dramatic hijacking of democracy. Instead, the president has managed a subversion of institutions like the top court, a crackdown on press freedom, and, now, the possibility of installing a dynastic transition in the country.
Even worse, the V-Dem lead investigators find that, while these gradual processes of democratic erosion are not as abrupt and severe as reversals like coups, they still almost always result in the death of democracy. Of the recent democratic erosions they studied, the note, only 15 percent were halted before democracy broke down—in Bolivia, Ecuador, Nicaragua, South Korea, and tiny Vanuatu, although some other democratic breakdowns, like in Brazil, are still in progress and with the potential outcomes uncertain. Overall, this is grim news for democracy, indeed.
A version of this article was originally published by the Council on Foreign Relations and can be accessed at:
https://www.cfr.org/blog/state-global-democracy-today-even-worse-it-looks-v-dems-new-democracy-research